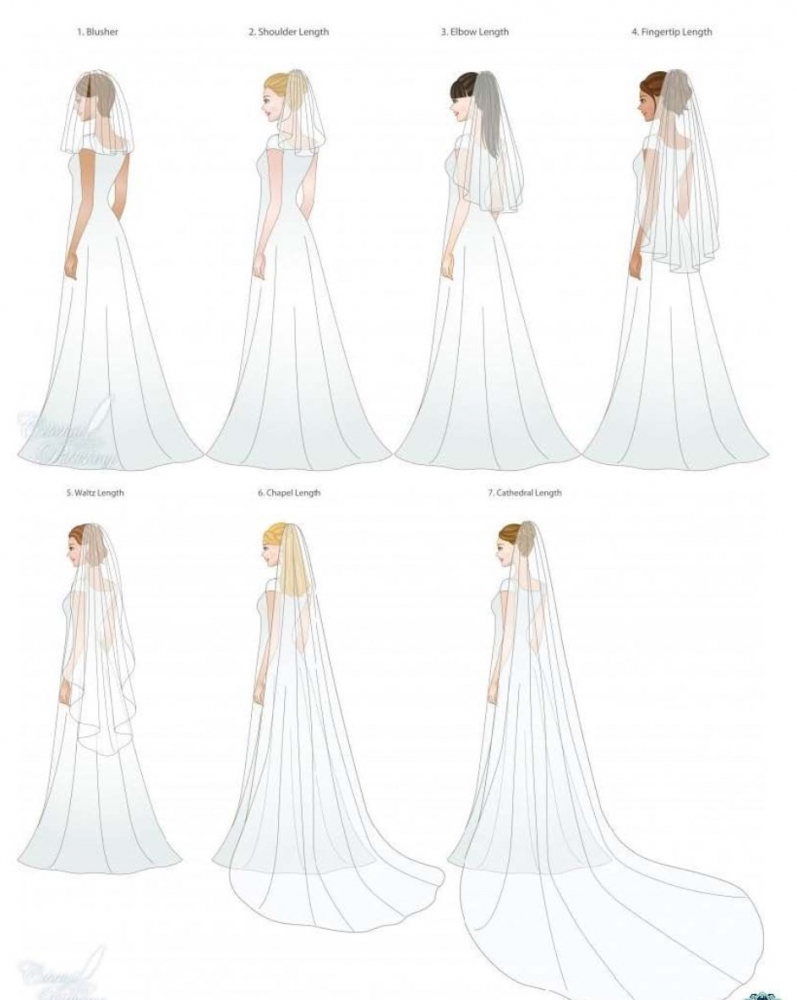 Different types of wedding veils
Once you have found your dream dress you then have another decision to make on whether you are going to wear a veil and what kind of veil to get. Making this decision can transform the look of your dress and give you a true bridal moment but it can be just as overwhelming when you were faced with many different styles of wedding dress as veils come in a variety of lengths, they can be beaded, have lace and have one or 2 tiers, but once you find the perfect veil it will compliment your gown and highlights your appearance as you walk down the aisle.
Unfortunately it's not as simple as choosing a long or short veil as different types of veils and lengths can completely transform your wedding style, a short blusher may give a feeling of retro whereas a long veil is more dramatic and feels traditional. 
So these are the different wedding style veils that you can choose from:
Bird Cage Wedding Veil
A bird cage veil is a short and flirty wedding veil that can cover just the eyes, skim the nose or fall at the jawline. They are usually made of a net or lace.
Blusher Wedding Veil: 
A blusher has its name as it's a short veil that falls over the face and ends near the top of the dress then during the ceremony. However, many brides choose not to have the blusher part over their face and choose this type to give volume instead. 
Shoulder-Length Wedding Veil
As the name suggests, this wedding veil style hits your shoulders. Shoulder-length wedding veils are a great option for brides who want traditional-looking veil that doesn't compete with the details of their dress.
Elbow Wedding Veil
This length of veil falls, as you can imagine, to the elbow and gives you coverage over your shoulders and is therefore an elegant way of covering up without having to wear a bolero or shrug.
Fingertip Wedding Veil
This length veil is one of the most popular lengths and falls just beyond your hips. Because of where it does fall this means that you still see the detailing on the back of your dress because of the sheer fabric.
Floor-Length Wedding Veil
This length veil literally just touches the floor and therefore is the same length as your gown and will add extra volume to your look.
Chapel Wedding Veil
A chapel length could give you the illusion of a train if you decided to choose a gown without one. It can also look stunning on a wedding dress with a  chapel length train as the veil will cover it beautifully but be sheer enough to still se the dress through.
Cathedral Wedding Veil
This length veil will give you the most regal, grand entrance. As the veil will extend beyond your dress it will give you a real dramatic look as you walk down the aisle.
Things to Remember When Choosing a Wedding Veil  Pinpoint Your Budget
Have a price tag in mind. What can seem to be a flimsy piece of fabric can actually cost much more than expected, easily racking up your wedding style budget. Some veils may even cost more than the actual dress itself.
Consider Your Hairstyle
A chignon versus long flowing curls may result in a completely different veil placement. For example, if you're wearing the former, you may want to pin your veil below the bun to show off your updo. If you're envisioning the latter, you may want to pin the veil on the crown of your head to add volume. And if you're hoping to add hair accessories to your look, let your bridal stylist know what you have in mind so she can help you choose the right veil style that will suit your accessories. You don't want your head to look cluttered!
Try on multiple wedding veils with your dress as your veil will help shape your style on the big day, so naturally, you'll want something that balances the vibes of your dress without overshadowing it.
Don't be afraid to try something you wouldn't normally gravitate towards. You may be surprised — keeping things matchy-matchy isn't always the best way to complement your gown, depending on the look you want to achieve.