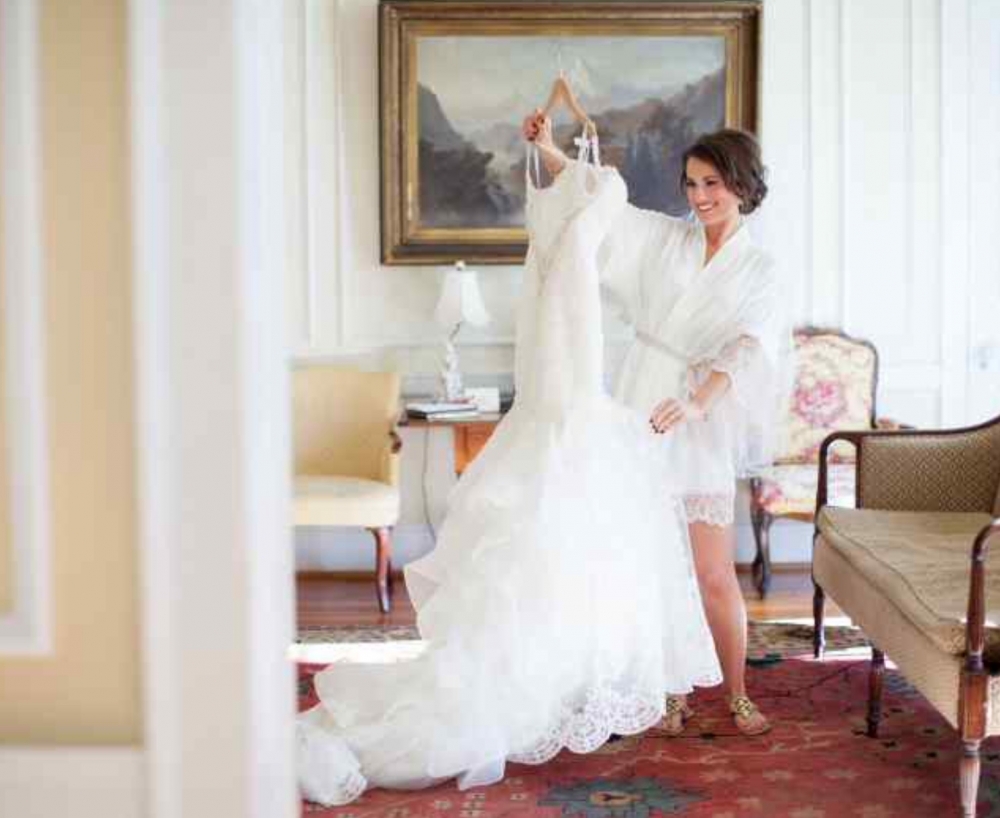 Do I need to book an appointment and how long will one be?
If you are looking to come on a Saturday then you will need to book an appointment so that I can give you a dedicated amount of time in order to help you find your perfect wedding dress. If you are looking to come during the week you can just pop in, however if I am with a bride that has booked an appointment you are welcome to look at the dresses but I may not be able to help you try any on. Each appointment will last for 2 hours so that you are not rushed and enjoy the experience of finding your dress, due to the length of the appointment if you are unable to attend for any reason then it would be greatly appreciated if you can let me know so that another bride can be booked in.
How many people can I bring to the appointment?
It is a good idea not to bring too many to your appointment, the fewer the better! If you have a large entourage then they all have their own opinions on what they like and this can be confusing for you as you may love a dress and their opinions could put you off what could have been YOUR dream dress. If you really want a large entourage to see your dress then they could come in when your dress arrives and you try it on for the first time.
Can a dress be customised?
Different designers have different things they will customise on a dress so if there was something in particular you were wanting in then I would contact the designer to find out if it could be done. In general the dresses come in Ivory and white and certain styles can be ordered in other colours such as blush, champagne and light gold. Some dresses come with a zip and can be changed to a lace back and visa versa. One designer, Kenneth Winston, offers what's called a split size, for an additional cost, allowing for different body shapes to be catered for so instead of ordering a standard size 16, the bust could be ordered in a size 12, waist size 16 and hips size 18, this can lead to less adjustments having to be done by the seamstress.
How long does it take for the dress to come in?
Wedding dresses are not sock piled, each individual order is made for that bride therefore it is important to order your dress in enough time before your wedding date. A dress can take 6 months to arrive, plus you need to think about alterations which can take 6 to 8 weeks. The sooner you find your dress the better so that you are not stressing about will the dress arrive in time! If you do have to leave choosing your wedding dress until the last moment then I do have dresses that can be bought 'off the peg' in other words when you find your dream dress in the boutique and it's your size (or can be altered to your size) you can take it away with you! 
 Do you do alterations? How much will they cost?
Alterations are carried out by independent seamstresses, I have ones that I recommend or you can take your dress to your own. As these seamstresses are independent they have their own prices, however they will give my brides the best possible price they can knowing you have had your dress from the boutique. For this appointment you will need to have your wedding shoes, underwear and petticoat (If you are having one). Depending on how many alterations are needed you may need 2 or 3 appointments with the seamstress. 
 How much is the deposit and when do I need to pay the full price?
Once you have found your dream dress a 50% deposit will need to be paid, then the final balance is payable once the dress arrives. If you would prefer then I offer payment plans at no extra cost giving you flexibility in spreading your costs. 
Will the dress be steamed?
Once you have had all your fittings with the seamstress you can arrange to bring your dress back to the shop where I will store it up to your wedding date and have it ready and steamed for the date that you have arranged to collect it. Just bring your car to the rear of the shop and I will bring your dress out to you!